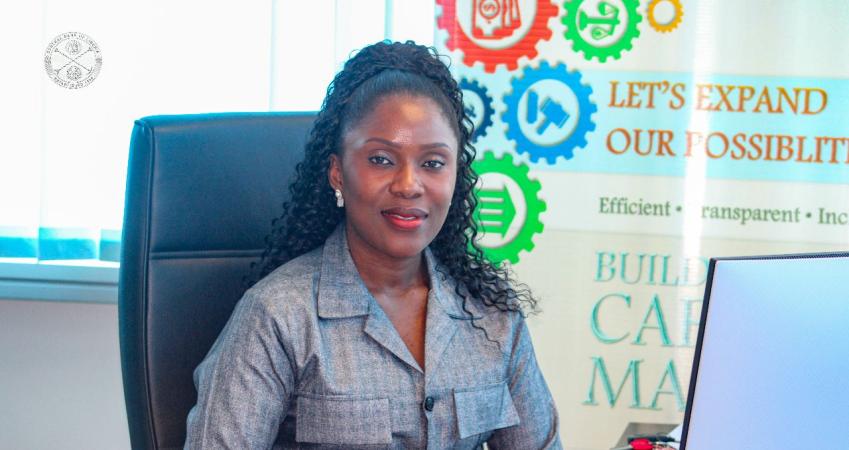 Monrovia – The International Monetary Fund has selected one of Central Bank of Liberia's (CBL) outstanding female professionals through a competitive process for the prestigious one-year Special Appointee Program (SAP) expected to run from June 26, 2023 to June 25, 2024.
Ms. Euphemia Swen-Monmia, who is the Director of CBL's Financial Markets Department, will join four other highly qualified professionals from other countries for this capacity-building initiative that targets mid-level public sector officials in IMF member countries. The program builds appointees proficiency in the use of new methodologies and helps them gain exposure to the Fund's work to strengthen relations between the member country and the Fund.
Euphemia Swen-Monmia joined the CBL more than a decade ago, her determination was pivoted on commitment and hard work with her eyes firmly set on the bigger picture. She rose from the position of management trainee at the Bank in 2010, and gradually steer her career on the path of being an outstanding professional.
In 2013, she became a Senior Bank Examiner & Registrar and later excelled through to become Assistant Director in the Regulation and Supervision Department by 2015. Her tremendous performance as Assistant Director later earned her a transfer to the CBL's Financial Markets Department, a newly formed department in 2017. Again, her hard work earned her a promotion to Deputy Director in January 2018 and then to Director-proper in July 2021.
Mrs. Swen-Monmia holds a master's degree in development finance (University of Reading, United Kingdom), a graduate certificate in Capital Markets (George Washington University, Washington D.C., United States of America) and several diplomas/certificates (IMF, Toronto Center, and other monetary institutions).
She began her career with a bachelor's degree in public administration from the African Methodist Episcopal University (AMEU) in Monrovia. She prides herself through exemplary advocacy for women, with her commitment to this cause dating back in 2006 when she served as gender officer of the Liberia National Student Union (LINSU) for three years before becoming the only female on LINSU executive council while serving as Assistant Secretary General for the student body.
Mrs. Swen-Monmia's words for women "Believe in yourself and always bring your A-game, even when no one is watching you".
In an exclusive interview, she talks more about her work ethics, commitment to achieving the CBL goals and her prospects with the IMF program.
Question: You have spent over 12 years here with CBL. From a management trainee to now a director for one of the most vibrant departments of the CBL, tell us about your journey to this level? 
At the CBL, I did not see my employment as just sustenance and bluff. Instead, I believed the success of my recruitment process revealed that I was destined to make significant impact in the Central Bank, the economy and eventually the world. This belief and enthusiasm made me handle my assigned responsibilities with dedication and objectivity, thereby yielding desired outcomes.
During my journey in the CBL, I have always nurtured and supported team members' efforts to make an impact. Together we have achieved some critical milestones/results including but not limited to the following:
Through Technical Assistance from the International Monetary Fund (IMF), strengthened foreign exchange (FX) reserves management to ensure clear delineation between the strategic, tactical, and operative levels. Recorded more than 500% growth in interest income in 2022; and secured approval for a timely and cost-saving means to fund the CBL's main offshore account. We are currently working on embedding strategic asset allocation and risk management in the management of the country's FX reserves.

Successfully implements the CBL's monetary policy (MP) resulting in an appreciation of the Liberian Dollars and reduction in inflation from a high 27.3% in November 2019 to circa 7.9% by December 2021 and curtailed to 7.6% in December 2022. Inflation and exchange rates experienced relative stability.

Serves as CBL's technical lead on the West Africa Monetary Institute (WAMI) Debt Market Development in the West African Monetary Zone project for regional integration and the lead on the Pension Sector Reform project where stages up to the appraisal for funding from the African Development Bank have been successful completed.

Facilitated technical sessions with the Ministry of Finance and Development Planning technical team on the development and drafting of 2023 Annual Borrowing Plan and Issuance Calendar.

Developed the regulatory and operational framework for interbank market advancement in Liberia resulting in increased interbank market transactions from zero in 2017 to a total of 709 transactions by December 2022.

Immensely contributed to Financial Markets Department structure, vision, mission goals, objectives, and terms of reference after being transferred to the Department at its inception in January 2017.

Chaired the CBL's Liberia Financial Sector Development Implementation Plan (FISDIP) launch planning committee which was successfully launch within the proposed schedule.

Spearheaded the successful development and launch of the Liberia Collateral Registry, a project funded by the International Finance Corporation (IFC) to provide access to finance using moveable assets as collateral in 2014 and the development of an offline version to ease the internet connectivity challenges of users and increase utilization.

Strengthened the Central Bank of Liberia's Credit Reference System (CRS), by training users, responding to inquiries timely, and implementing the CBL Directive barring delinquent borrowers from accessing the financial system to curtail the high non-performing loans (NPLs) in the system. NPL reduced from a high 22.2% in 2012 to 14.4% in 2013.
I will be remiss if credit is not given to my Bosses and the staff I have worked with over the years. They created the right working and learning environment that supported and motivated me to reach where I am today.
Question: What are your core education and work-related values and how does it align with the vision of the CBL? 
My professional and academic advancement are at the core of my commitment to always succeed and these are aligned to achieving the vision of the CBL. In addition to a MSc. degree in Development Finance, UK, and a Graduate Certificate in Capital Markets, US under the IFC/Milken Institute CMP, I have refined my knowledge, studying diverse economic and finance courses as well as the flagship Women Supervisors and Regulators in Leadership Program, Central Banking Communications, among others; offered by the IMF, JICA, World Bank, Toronto Center, Commonwealth Meridian, WAIFEM, etc.
My core work-related values have remained working smart and yielding timely results. I narrow down task to the specifics, understand how to measure and achieved success, determine each task's relevance to the overall objective of the CBL and ensure it is time-bound. I find passion in my work and am driven by the end-product, not recognition or pay raise. The rest falls into place.
In alignment with the Bank's Strategic Pillar: Rebranding CBL Image, I have proudly shared my knowledge and experience while serving as facilitator and panelist at several international conferences such as the IFC Infrastructure Week, Alliance for Financial Inclusion Global Policy Forum, West Africa Securities Regulators Association's Capital Markets Conference, etc.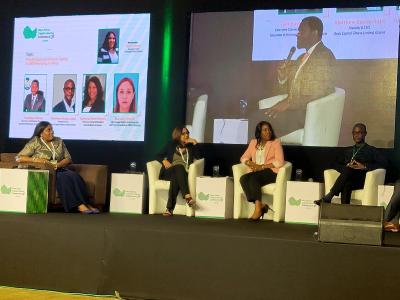 Question: How does working for the CBL help you to excel professionally? And how do you see the future of career women here at the Bank?  
Answer: The Central Bank of Liberia, as an equal opportunity employer, recognizes professional excellence, irrespective of gender, age, or ethnicity.  Capacity development is at the core of that excellence because the CBL has a lot of programs to suit employees' quest for academic advancement. Having obtained international scholarships, I was granted study leave and other support during my master's and graduate certificate studies.
CBL employees are also exposed to, and work excellently in, a dynamic inter-cultural work environment through regular engagements and partnership with local and foreign stakeholders. I was exposed to working directly with international partners within four years after I joined the CBL and have headed and successfully implemented several reforms sponsored by international partners since.
As the only female Director/Head of Department in the Economic Policy Division of the CBL, I have been the only female in many high-level meetings, and I have never felt intimidated or pampered. I have been given equal opportunity and respect to contribute to policy deliberations because of the CBL's culture of unbiased professional excellence.
To conclude, the CBL has competent females at different levels of authority, including: a strong Board member, our dynamic and outstanding Deputy Governor for Operations, four Directors/Head of Department, and several Deputy Directors, Assistant Directors, Principal and Senior Officers and staff. The CBL provides a safe environment for females to advance their career. The above, in my opinion is an incredible culture that cultivates professional excellence and promises a bright future for career women.
Question: How can you describe your selection for the IMF SAP program? And how will this impact your career?                                                                                              
My selection for the International Monetary Fund's Special Appointee Program is an incredible milestone towards my professional advancement. To have been selected with only four others from a large pool of highly competitive candidates across 30 sub-Saharan African countries is a big accomplishment for me and the CBL. It shows the caliber of staff the CBL has developed and retained over the years. Personally, it is a true reflection and manifestation of the benefits of managing for results, planning, executing task to make an impact, measuring performance, learning, adapting, and making processes and systems better off than you met them while letting your work speak for you.
I am one who pride myself in professional and academic advancement and this is one of my dreams coming true. As a Central Banker, the highest professional institutions you can aspire to work for is the IMF and World Bank. I have been given this opportunity for a year. I will put my best foot forward, learn and use the knowledge and experience to set me apart from my peers and shine the light on Liberia.  This appointment prepares me for bigger opportunities within the CBL, the country and the world.
Question: What value addition will you gain from the program that will enhance your contribution to the CBL? 
I will be assigned to an operational country desk in the African Department, giving me a great opportunity to utilize the Fund's advanced models and analytical tools in my work, learn about the inner workings of the IMF, their expectations for member countries' growth and development, and expectations from governments of these member countries to improve my performance.
As a senior staff of the CBL, I am aware of the enormous progress made and challenges faced by the monetary and fiscal arm of Government especially in this dual currency regime. Such knowledge and experience will add value to my work at the IMF. It also makes me enthusiastic about gaining sufficient knowledge and experience in monetary policy, financial sector development and stability, debt management, macroeconomic diagnostics, etc. to make significant contributions to the workings of the CBL and the improvement of our economy.  My strengthened relations with the IMF will be used to attract more technical support to the CBL while my IMF's work experience will further boost the caliber of the CBL's Senior Management.
Question: Any final words?  
Answer: I firstly thank God for his continuous love towards me. I also acknowledge the special role of my family, especially my husband and kids who have supported me through my professional and academic sojourn. Thanks to the CBL Management and staff for the opportunity to serve the Bank, and the IMF for giving me such great professional learning opportunity.
My final words are for young female professionals across the African region. Don't value yourself based on others' opinions, especially in a society where women values and abilities could be undervalued by men and sadly women. Believe in yourself and at work always bring your A-game, even when no one is watching you and God will make your conviction a reality.